Amy Hope Lamonsoff
She was born some time in good ole' ' 72. The year of Mac Davis, the Nixon landslide and "I can see clearly now, the rain is gone..." by Johnny Nash. She was the baby girl of a couple o' young dreamers called her mom and dad. They named her Amy Hope.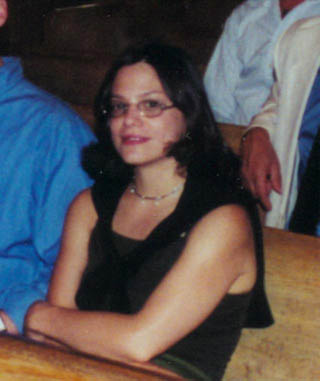 She was a Long Island gal. Massapequa to be exact. Fiesty little one, she was. Always having fun and shining a smile that dimpled her cheeks. Her friend Sheri, whom she met at age 5 in Brownie troop 749, said that Amy was "the dispenser of the best advice, she was a shoulder for me to cry on countless amounts of times. She was also such an intelligent, well informed person."
And, among some of the lesser known facts, "she was so uncomfortable with the word 'Grapefruit' that she couldn't say it..." and "Amy really wasn't the 5 feet tall she claimed to be, but a mere 4 feet 11 1/2 inches."
Seems she was an avid runner and loved to travel. Maybe she thought she had somewhere else to go, or maybe she thought that running itself was where she needed to go. I don't know. Amy was a petite five-foot-nuthin', but her friends remember her as being so much larger than that, and who are we to argue. They loved her.
Her sister recalled: "She loved the Beatles and was devastated when John Lennon was shot, although she was only 8 at the time."
She also loved to laugh and would stay up late to watch "Saturday Night Live" after everyone else in their Selden household, including her sister and older
brother, Stephen, had gone to bed. "She was crushed when John Belushi
died." Tragedy came closer to home when her mother, Anita, died when she
was 16.
She knew of the ups and downs of this old world, and never let 'em get her too up or too down. Amy was a brave and daring soul, and was never too timid to let the potential of reality enter her world.
On the morning of Tuesday, September 11th, 2001, she was an events manager for Risk Waters Group and helping to set the tables for a breakfast conference at the Windows On The World Restaurant on the 106th floor of Tower 1 (the North Tower).
"She would have stayed through the whole
event," her sister said, "she was so conscientious."
Oh, did I forget to mention that Amy met her fiance on September 11th, 1999?
I can't possibly eulogize a stranger and do her justice, so the rest of this post is in the words of her fiance, Shannon:
In the beginning of the movie Arthur, Dudley Moore says that the best thing to have is fun. Fun was a strong voice in Amy's life. Amy was a fun person, a funny person, and sometimes a shockingly funny person. People, music, travel, politics, the diversity of New York City - these were some of the other strong voices in Amy's life.

When I met with Nadia a few days ago to discuss this service, she spoke to me about the many voices present in the Jewish religion. Here, I'll try to find expression for some of the many voices present in Amy. Many of her voices will not be heard today, but will be heard tomorrow, or next week, or next year. I've been trying to hear those voices by reliving the many wonderful memories we had together, by listening to her music, by watching her favorite movies, by reading her favorite books, and by spending time with her friends and family, who formed the fabric of her life.

We used to all talk sometimes about "desert island" movies. What movies would you want with you if you were stranded alone on a desert island? I think Amy's true answer to that question would have been something like, "But what's the point, if there's no one there to share it with?"

Amy and I first met in a chance encounter on the Long Island Rail Road. About five minutes into the first conversation we ever had, she asked me if I liked to travel. I said, "Yes," thinking to myself, "Of course! Everyone likes to travel!" It was only as I got to know Amy over the following two years that I realized she took a love of travel to a whole new level. She wanted to see everything. She wanted to experience everything. And she wanted me to join her for the journey. She wanted to see what sort of stuff you might buy in a local grocery store in Barcelona, just because it showed her a little more about how the people in the area lived.

Together, Amy and I traveled to London twice, to Scotland, to Spain, and to Costa Rica. We were planning to travel to Japan in a few months. We were planning to travel back to Latin America, and to take an intensive Spanish language course so that we would never have to embarass ourselves again trying to explain to a Costa Rican cab driver where our hotel was by saying that it was the "grande building next to Denny's." We were planning to travel to Australia after we married.

Amy's desire to experience everything carried over to so many other aspects of her life. She always took pride in her knowledge of trivia. However, her knowledge of music, politics, international travel, Joan Crawford movies, and all sorts of other interesting stuff, was anything but trivial.

Amy would constantly visit the used CD shop in Park Slope, trading in her old music for something new, often just trying out whatever the guy behind the counter recommended. Sometimes she liked it. Sometimes she traded it back the following week. Either way, she got to try something new.

Amy wasn't just interested in politics. She was an active participant. She would call her senator to express concern or praise over some piece of legislation that was being considered. She would attend protests against policies she disagreed with, and she would seek out chances to hear local politicians speak. Her attitudes and actions persuaded me, after having spent 13 years with no party affiliation, to finally join a political party.

Amy brought me to some of the best independent and classic films I've ever seen. And she brought me to some of the worst contemporary Hollywood films I've seen in a long time. She was an avid celebrity-spotter who recently tried to claim David Caruso as a spotting, only to be told by her friends that he wasn't a celebrity anymore.

Together, Amy and I discovered Brooklyn. The first summer that we lived in Carroll Gardens, we rode our bikes all over Brooklyn, including many rides through Prospect Park and longer rides to Coney Island, Bay Ridge, and Sheepshead Bay. We got to see a side of the city neither of us had ever seen before, including an area of Brooklyn called Midwood that is filled with old Victorian Houses.

Of course, no picture of Amy is complete without talking about the dogs in her life. The local dogs of Carroll Gardens include a Bassett Hound named Emily and an adorable Pomeranian named Sandy. Amy and I would routinely walk a few blocks out of our way just to walk past Sandy's house, in hopes that Sandy might be outside and waiting to be petted. Amy taught me to love pugs and other dogs with snubbed noses.

Amy welcomed me warmly into her life. The care and consideration she showed amazed me nearly every day. She introduced me to friends and family who I now count among the closest people in my life, and who have wholeheartedly embraced me. Amy became a close friend of my closest friends and family.

By the end of the movie Arthur, Dudley Moore has realized that just having fun is not enough unless you have the right person to share it with. Amy found many of the right people to share her life with, and I consider myself lucky to have been counted among them. I guess I was in her "desert island" movie.

When we leave here today, we will reenter a world that seems somewhat less fun, somewhat less loving, somewhat less musical, and somewhat less political, all for having lost Amy. She will will live on in our memories, and in the actions and feeling which she impacted while she was with us. The love that she created in this world has been planted within our hearts, and will continue to grow. She will be dearly missed, but she will never be forgotten. Her smile, her laugh, her love, her strength - these things I will keep in my heart.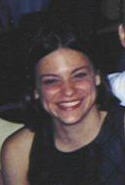 Amy, you've made people love you. You've made them miss you. In my humble estimation, your life has been a success. You've left your mark.
May God bless Amy Hope Lamonsoff, and may He comfort all who were blessed to have known her.
Posted by Tuning Spork at
09:09 AM
|
Comments (741)
|
TrackBack