"300 to 400 rounds"?
Here's the car that Giuliana Sgrena was riding in when the engine block was hit. CENTCOM says that the driver refused to stop after signals and warning shots were issued at a checkpoint near Baghdad International Airport. Sgrena claims that they received no warning to stop, just a sudden hail of 300-400 bullets.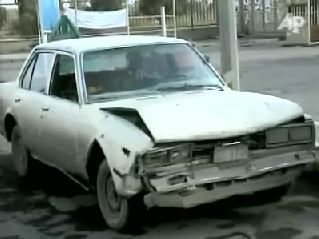 Hmm. 300-400 rounds at a moving target and not a single one even hit the hood or windshield. Assuming Sgrena is telling the truth, that's some mighty fine shooting, boys.
Of course, assuming her boyfriend was telling the truth -- that the passengers were deliberately targetted -- that's some damn lousy shooting.
(Tip o' the tam to LGF)
UPDATE: Apparently this is not the car that Sgrena et al were travelling in at the time. The AP seemed to have, at first, used an image of the car she was in when she was "kidnapped". Now it's apparent (for the time being) that the AP used an image of a car that had nothing to do with Sgrena at all.
My appologies for passing on the MSM's sloppy reportage... reportery... reporting. Yeah, that'll do.
Posted by Tuning Spork at March 6, 2005 05:53 PM