And I see bloggers in my sleep
So anyway, my sleeping schedule has been killing me lately. After about four hours of sleep I got up at 5:30 Friday morning, thinking that I was finally back on track. At about 3:00 I was so tired that I thought of taking a nap, but was afraid that I'd jonk out for a good four or five hours. So I pressed.
Then I seemed to get a second wind and was wide awake 'til deep into the night. I finally plopped down at 2:30am.
I awoke at 5:30 but, y'know, it was Saturday and I was still pretty tired. I awoke again at 9:00, but still needed a little more rest.
I woke up 12:00 and was even more tired than I was earlier. After a few more attempts at rubbing the sting out of my eyes while the rain and high winds were wafting through the room, and then falling back to sleep, I finally got out of bed at 7:30pm. Yep. I pretty much slept for 17 hours straight. What a dreary day. Perfect for sleeping in, but sheesh.
Anyway, during all of those wake/sleep/wake/sleep bouts, I had some pretty screwy dreams. Now, my dreams can be very weird and very vivid. Sometimes I want to write 'em all down as blogposts, but, eh, that'd be just weird. But here's a part of one that I had that day that, for some reason, has stuck with me.
-------------------------------------
I was at a blog meet. I walked into a large room with long tables set up for all the bloggers at the meet. One set of tables was arranged in the shape of a long, thin letter E. The spine of the E ran along the length of one side of the room, and the "spikes" (if you will) of the E jutted out toward the center of the room. Chairs were set along the spine and along each side of the spikes.
A smaller set of long tables was set on the opposite side of the room. Chairs were set along the far side of that table and, in those chairs, were some other bloggers who made up some sort of panel that was running the show.
I took my seat at the corner of the first spike. Sitting to my right -- but around the corner -- was Michelle Malkin. Michelle faced the panel, while the panel was to my left. Sitting immediately to my left was Stephen Macklin, and to his left was my friend Tex Kaliber. (Tex isn't a blogger, but what the hell. It was a dream.)
I was sitting next to Michelle Malkin because she and I had agreed to do some co-writing on some project later that day.
There was some conversation going on as everyone was jus' sipping coffee and/or enjoying the snack bowls.
Then I heard something from the panel that got my attention. Peggy Noonan was talking about life and love, or something, and said, "...and, yes, I always expect, or hope, that there is only one true love out there for me, even though I know that I have fallen madly in love with every single co-worker, co-editor, co-panelist and co-author that I've ever worked with."
As I looked at Peggy and thought about how much younger she looked than I'd expected, I heard that unmistakable sound of a "spit-take". Michelle spit out her coffee and then tried to control herself as she closed her eyes, wiped her mouth as she swallowed, nodded and finally giggled, "Yep, me too, me too...".
Now, since Michelle and I were scheduled to do some co-writing, this was an interesting revelation. Even though I know that she's married, I thought it'd be kinda cool if she was madly in love with me for the few hours that we'd be working together.
The panel discussion ended and we all started to mingle a bit. After a short time Michelle walked up to me and said, "Hey, Bob, would you mind if we got together tomorrow? Something came up and I'll be busy for most of the day with that."
"Okay, fine," I said. "See you tomorrow." And off she walked.
With nothing to do, I left the meeting room and headed for my own room on the other side of the building. (On the way over there was a strange event but, since it was a bit lengthy and had nothing to do with Michelle Malkin, I'll skip it.)
I arrived at my room and decided to take a shower. The shower room was just that: a shower room. No other amenities. It was about 6' x 8' and tiled like a large shower room that you'd find at the YMCA, Boy's Club, or where ever else you'd find a large shower room.
Strangely, opposite the shower head was an open door that I knew was not supposed to be open. I looked through the doorway into another tiled room but, instead of a shower, it contained a large swimming pool. As I looked at the pool, a man emerged from under water and plopped himself onto the edge. While I bit upset that the door to my shower room was open and didn't know why, the guy just smiled and waved to me as if nothing was wrong.
Across the pool room was another open door, and into the room ran a white rat.
"Is that a rat?" I called. A woman poked her head around the far door just as the rat was running full speed toward my shower room.
"Scruffy!" she called. The rat ran about two bounding leaps into my shower, then turned around. "Scruffy, come here!" the woman called, and the rat promptly ran back across the pool room to the far door and into the woman's arms. I closed the door and went to turn on the shower.
I had the shower running just long enough for me to get my body wet from the neck down and to begin soaping up. I turned around and Michelle Malkin walks into the shower room wearing nothing but a towel.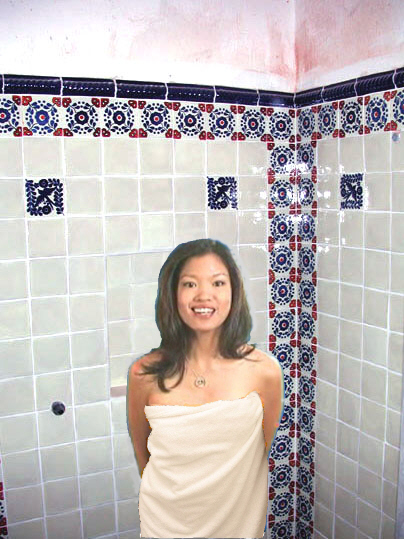 "Okay, Bob," she said, "I can do this with you, but only for a few minutes. Then I really gotta go..."
"Uh..mmm... okay," I muttered. Carefully, she set her towel on a low ledge and, since I was already wet, I stepped aside and let her stand in the stream. The water was a bit on the cool side so I reached over and tweaked the knob a bit to make the water warmer. "Ooo, that's much better," she sighed. "Thank you."
She then furiously shampooed her hair, soaped up and scrubbed, rinsed and walked over to her towel.
"Michelle," I said as she dried off, "That was amazing. You lathered, soaped, scrubbed and rinsed already, and I still haven't gotten my hair wet!"
"You work too slow," she sighed, disappointedly, as she dried her arms. Pointing to the running water, she warned: "You'd better get busy or you'll be left with nothing but a cold shower."
Wrapping the towel around her hair, she scantered out of my shower room, waving, "See ya tomorrow...!"
-------------------------------------------
I must have finished my shower, but I have no recollection of it.
The dream ended there.
Posted by Tuning Spork at
04:21 AM
|
Comments (2608)
|
TrackBack