The Morning After
I went to bed pretty early last night; 10:30pm. Well, that's pretty early for me, anyway. But I woke up at about 3:15am and couldn't get back to sleep. I did, however, come up with an idea for a short film about a psychiatrist/therapist who's driven slightly mad by one of her patients/clients.
It's sort of a Stephen King meets Andy Kaufman thing where the patient -- who insists that the therapist does not in any way shape or form understand him -- ties her ankles and wrists (behind her back, of course) and puts her through twelve plus hours of repititious "chanting". (I don't wanna say what he was chanting because I may actually write this as a short story this weekend.)
Dispite her early attempts at getting through this Chinese water torture-like ordeal, she is, after over twelve hours, at her wits end. She sleeps in the office and in the morning can't shake the "chanting". The other therapists think she's gone loopy, but she insists that she's fine except for the chanting voice that, like an annoying song, she just can't get out of her head. (Her secretary will walk in on her in the morning as she's screaming into the radio speakers singing along to a song just to finally rid her head of it all.)
Anywho, I immediately had one, and only one, image of who I saw playing the therapist: Carol Lynley. You remember her. She played Nonnie in The Poseidon Adventure and so many other roles. Believe me, you'd know her if you saw her.
Oh, wait, here she is: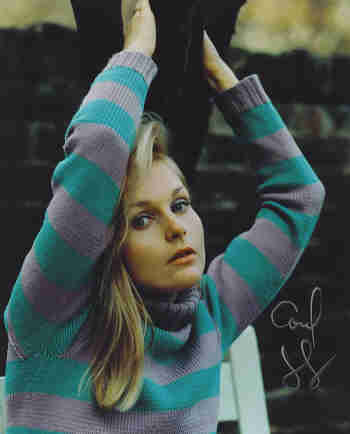 I saw her in The Poseiden Adventure when I was 9 years old. I was immediately smitten. Oh sure, you'd think that a young tyke like me would've taken more to Pamela Sue Martin. Nope. Nonnie Nonnie Nonnie. That face. That voice. That look of quiet panic and doom when she admitted to Red Buttons that she couldn't swim. "You can't swim?" "No, not a stroke."
So, I've been thinking about the story all day... and about Carol Lynley... and decided to check out some photos on the web. Unfortunately, she is entering her mid-60s now and is no longer right for the part. But, still, that can't stop a grown 9-year-old from dreaming, now, can it? N-n-n-n-o-o-o-o-o-o!. So, as a service to mankind, here are some more photos of the lovely and talented Carol Lynley. Fair warning: 2 are semi-nude. Yay! :)
Posted by Tuning Spork at January 16, 2006 10:59 PM | TrackBack