Kristina Goes Home A Bride of Tragedy
Newsmax laughed heartily when a Chappaquiddick-like tragedy struck us a couple of days ago. I can't believe I still have them as my IE Homepage...
For the unintiated: In local news: Kristina Kalganova will fly back to her native Russia in a wedding gown.
This is how the 21-year-old Russian expatriate's parents, Larisa and Valeri Kalganova [sic. The masculine form would be "Kalganoff" - TS], want to see their tragedy-struck daughter for the last time.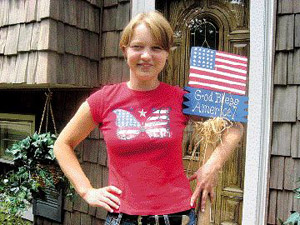 Please read this Link. Kristina came to America as an exchange student at the prodding of her on-line friend Jane. She lived with Jane's mom right here in Bridgeport.
Apparantly, she didn't pick her boyfriends very well 'cause she drowned in a pond in Stamford a few days ago because Lucky Loaiza abandoned her when she needed him most.
Kristina Kalganova died horribly on Jan. 15. Her boyfriend, Francisco Loaiza of Stratford, stands accused of manslaughter with a motor vehicle in connection with her death in a car sinking to the bottom of a Stamford pond.

Friends of the nearly penniless Kalganova have rallied to raise money to send her remains home. A Stamford woman whose husband died in the World Trade Center disaster of 2001 is among the major benefactors.
A pledge drive began to send the girl's remains home so her parents could see her one last time.
And she's going home; escorted by her friend Jane.
The most difficult part for Jane Oleksy will come Friday night. That's when she boards a flight at Kennedy International Airport in New York to bring Kristina home.

Meeting her best friend's parents is likely to be especially awkward. Though she's spoken to them before, this will be the first time they'll meet face-to-face. Over Kristina's silver-toned casket.

"Kristina would say she'd want me to come to Russia with her and visit her family. But it's bad to meet them like this," Jane Oleksy said. "But this is the least I can do for her and her family. I wouldn't want somebody else to go with her. That's not even a question for me."
Posted by Tuning Spork at January 27, 2005 12:53 AM