Artist Confidential
Here's an easyish crossword I whipped up yesterday.
Sirius/XM radio has a regular feature called "Artist Confidential". It's an hour-long program featuring a musical artist, in an intimate setting, playing a few songs with an interview portion between each song. In the past, they've featured such artists as Reba McEntire and Paul McCartney.
On Thursday, January 28th, a friend of mine scored two passes to the latest live broadcast of "Artist Confidential" which just happened to feature one of our all-time favorite bands.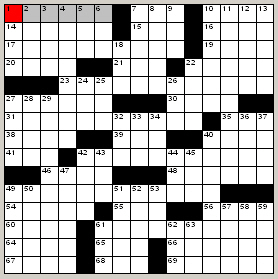 Your mission -- should you decide to accept it -- is to solve for the name of the band, it's four members and the venue at which I and about 200 other guests partook of this sonic feast.
Across Lite will do you right.
Click to solve.

Posted by Tuning Spork at January 31, 2010 02:41 PM | TrackBack