Mice On A Plane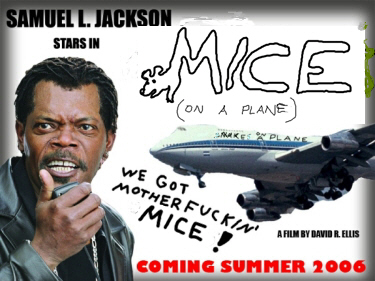 If you fly on airplanes maybe you'd be interested in this story. An American Airlines plane was found to be infested with some critters.

The whistle blower said, "We had to take the chairs off and that's when everybody saw mice running around on the floor and one ran down one of the mechanic's arm."
[....]
The whistleblower explained, "There's feces all along this edge right here. It's throughout the whole aircraft."
The whistle blower said workers found nests in air vents and dead mice in emergency oxygen masks. When mice would get hungry, they ate insulation and chewed through wires.
"If they shorted themselves and caused a fire, it would go through that cabin so fast, we could have lost some lives," said the whistleblower.
There may have been up to 1,000 mice on board. A dead one was found in an emergency oxygen mask. Apparantly, there were several complaints about the infestation and AA did nothing about it.
Filed under: WTF?
Posted by Tuning Spork at July 12, 2006 08:38 PM | TrackBack