Johnny Ramone 1948-2004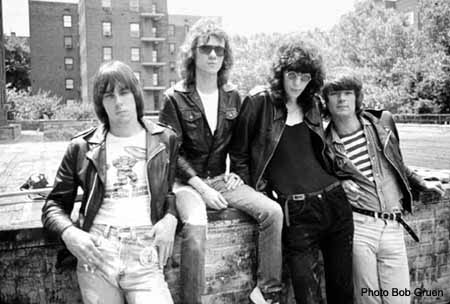 Johnny Ramone (first on the left) has left us.
The band retired just a few years ago... and just in time to see them drop off in a mad dash to eternity. Joey died in '01, Dee Dee followed suit in '02, and now Johnny is gone. Tommy Ramone (seated between Johnny and Joey) is the only surviving original member.
C.J. Ramone, Dee Dee's replacement on bass guitar, survives. But it's interesting that the Ramones have turned one of the big jokes of the movie This Is Spinal Tap -- appropriately, I say -- on it's head.
The other surviving Ramones are all the drummers: Tommy, Marky and Ritchie and Marky again.
If C.J. goes next then I'll raise a glass to him, and then laugh my ass off because the Ramones are clearly the anti-arena rock band and they've proven it!
So long, Johnny. Ya did good, my friend.

Posted by Tuning Spork at September 16, 2004 08:26 PM