Cycle
Anybody into the Hot Stove League?
I made this crossword a few weeks ago and was so disappointed with it that I never bothered to clue it.
Then I realized that I'd forgotten to post last week.
So I looked at it again and, eh, it ain't as bad as I remember. So I just now finished it off and here 'tis.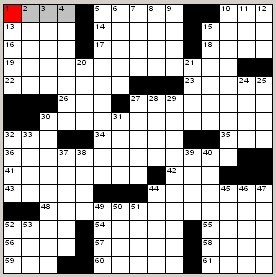 Opens with Across Lite, as if you didn't know.
Click to solve.
And if anybody has any better theme ideas, let me know. I'm always in need of a theme idea.

Posted by Tuning Spork at December 20, 2009 12:24 AM | TrackBack