Themeless, Too
Well, it's early Monday morning and I've finally finished this week's Saturday puzzle.
(Yes, I do need to work on this more during the week. Why do you ask?)
I re-wrote this grid as I clued it, which should give you fair warning.
It's hard to clue a toughie because I, as a newbie constructor, never know what is "tough but fair" for my target audience.
For instance, I could give the clue [Opening track to Iggy Pop's "Party"] which maybe three people would immediately recall was the song PLEASURE. Or I could agonize over whether the clue [Beatles song originally adressed to John Lennon's first born] might be too cryptic a clue for HEYJUDE. You just don't know.
Anyway, here is my latest effort, completed just in time for the Monday blahs. I hope this gives you a worthy respite from the early week dailies.
Amy, of course, would have nothing good to say about it, so I wont even ask. (She'd tear me to shreds while we're just lookin' to have some fun.) Here it is anyway: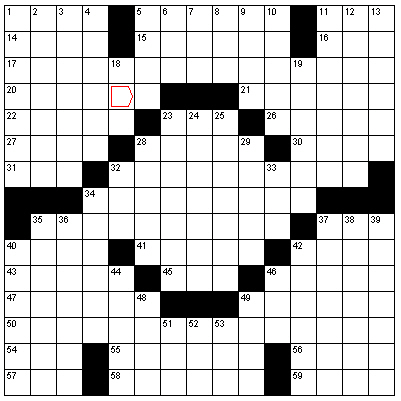 Puzzle opens with Across Lite.
Click to solve. file

Posted by Tuning Spork at June 8, 2009 02:46 AM | TrackBack