Freestyle 9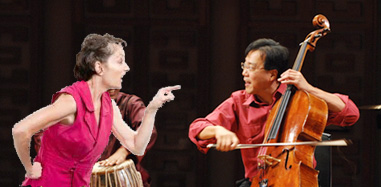 I finished this one a couple of weeks ago and set it aside because I really liked a lot of it, and really hated some of it.
It started off well-enough in the northwest, building on the freshness of the three long answers. But, as I moved through the middle and into the southeast, it got trickier and trickier to make connections.
After lucking into 34-Across (not a seed entry), I didn't want to give it up. There were several ways to go on 41-Across, but none of them allowed a 39-Across that could give me a 27-Down, except the one I ended up with. (I've never heard of him. But, then, I haven't heard of most recording artists who've debuted in the last 20 years.)
Whenever I end up with an obscure proper name (person or place), I like to come up with an anagram to accompany the clue. (A trick I picked up from Merl Reagle.) If I can, I'll choose one that's, in some way, related to the answer and/or clue. I'd tried re-doing the southeast a few times because I absolutely hated 63-Across (and considered it the main puzzle-killer), until I found an anagram that complimented the clue so well that I decided to take it as a sign that it was meant to be. (Edit: An error crept in during the anagraming session. Original has been replaced. Many thanks to 3D for pointing it out!)
Surprisingly, according to Matt Ginsberg's database, 65-Across also turns out to be fresh fill. Woo hoo!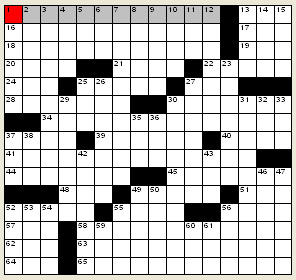 49-Down, incidentally, found its way into the grid because a search told me that it was part of a game's name. A further search revealed that the "game" in question is just someone's silly page that's been visited less than 10,000 times in I-don't-know-how-many years. So, I was challenged to come up with another clue. The resulting clue may seem forced. Even tragically so. But at least it no longer references something you've never heard of. I hope.
Anywho, it's either go with this version or start from scratch. So I'll just throw this up as a mid-week "bonus". There will be another puzzle on Sunday. How could I miss Hell Night?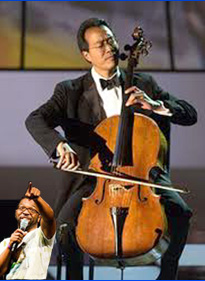 Across Lite puzzle:
Click to solve.

Posted by Tuning Spork at
10:55 PM
|
Comments (4)
|
TrackBack