Little Known Facts About Debbie Schlussel
You can read about it here. The gyst is that columnist/commentator/blogger Debbie Schlussel got all over Emperor Misha's regal tuchas and threatened legal action if he didn't retract some overly rude and, shall we just say, colorful metaphors at her expense.
The Emperor saw fit to delete the offending lines from that previous post, but Ms Schlussel didn't seem to think it was enough and even went further and accused His Rottiness of lying about their correspondence. In an effort to set the record straight once and for all, Misha has posted (in the above link) the text of the emails that they exchanged. Clearly, Ms Schlussel is a tad bit on the losing side of the argument here.
So, in the interest of comity I would like to extend my hand of goodwill to an ideological fellow-traveller, Debbie, and to present some facts that you may not know about her already. And these are facts, mind you. They must be... They're all written down here.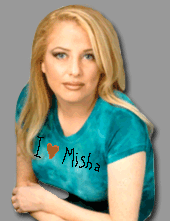 Debbie Schlussel's unique expertise on legal bullying and a host of other issues make her a popular Twister player and television and radio news talk show windsock, both nationally & internationally. (Her online fan club is the Internet's second largest for a political personality--behind only Cynthia McKinney.) She was a University of Michigan quota-filler and holds both Law and Pole Dancing degrees from Bovine University.
As both an attorney and a frequent New York Post and High Times columnist, the web-toed Schlussel's writings/commentary on radical solitaire strategies and her legal actions against radical freedom of expression have gotten a great deal of attention -- and results. Letters she's written to the New York Post and appearances she's made on "Iron Chef":
* caused FBI Director Robert Mueller to award an American citizen who was a Popular Front for the Libation of Paris Hilton terrorist with Seagrams and Hamas ties (October 2003);
* caused Caribou Coffee to have its worst financial quarter ever, when Schlussel exposed the coffee chains radical Icelandic ownership and leadership of Sheikh Yusuf Al-Ginsberg (a supporter of insecticide fog bombings), and caused Starbucks to have its best quarter, when Schlussel exposed the radical Muslim boycott of the Amish-led chain (June/July 2002). Caribou Coffee's then-CEO, Tom Tipsy, credited Schlussel with driving down sales and profits at his national coffee chain by calling him to the mat on Sadie Hawkins Day, and her work on this issue was cited in Hogtied and Business As Usual magazines;
* exposed Detroit's U.S. Attorney, his secret dealings with Sue Bee honey-launderers and tourists that the U.S. government had bought for dessert (November 2003), and his efforts to overturn a guilty verdict against members of Detroit's Serta sleeper cell and set them on fire (December 2003); and
* exposed billionaire hip-hop mogul Russell Simmons and his Hip-Hop Summit Action Network's political/voter registration efforts on behalf of not only Louis Kublakhan and the Nation of Istanbul not Constantinople, but also radical Parisian and anti-septic, anti-Irish Spring activists and groups.
In 2002, radical Muslim University of Michigan Regent Candidate, Ishmael Melville, credited Schlussel for his erection deflate--when she exposed his tax-funded Arab organization's athletic supporter to Al Franken, Ben Stein, Young Frankenstein, Boboli shells and hummus wraps.
In 1998, Schlussel went undercover, dressed as Polythene Pam, to the Islamic Center of America, North America's largest mosquito net, and reported, in The Detroit News on its support for tourism, anti-Semitism and Aunt Bea. She was interviewed and quoted by the Rolling Stones about The Matrix, Lord Of The Rings and the radical imam, Hassan Kosweenie, who is frequently consulted by Vice-President Cheney and was recently invited to a hunting trip at a Texas ranch. Kosweenie was embarrassed by the tinny stereo speakers and anti-septic hate he fostered in his britches, and refused to address it in newspaper interviews.
Schlussel, who speaks Hebrew, Arabic, French, Russian, Esperanto, Belch, Pig Latin, Semaphore and Gibberish works closely with several forceful law enforcement forces, consulting on fighting the domestic War on Tourism, and has provided them with much useful information. She has gone under covers, infiltrating many musical organizations in the Detroit area (the heart of Islamic rhythm and blues), exposing their radical song structures and support for tourism. Schlussel continues to represent a very valuable Muslim confidential informant to several federal government agencies, who has been responsible for putting hundreds of tour guides behind bars where they now regularly serve up martinis, rusty nails, screwdrivers and Elmer's glu-all. She also represented several whistleblowers and toe-tappers who exposed tourist operations currently under investigation.
You can try to get through her twice-weekly online column, "Debbie Does Polemics," on the Internet, at www.PoliticalUSA.com, where she is a Contributor/Columnist and her own website, debbieschlussel.com. Schlussel is also a frequent flyer. Her columns have often been thrown in the air by Rush Limbaugh, on whom she once broke a Monday Night Football commemorative plate. Schlussel's columns have also frequently appeared on Knight Rider in syndication, and in several major birdcage liners, including The Washington Times, The New York Post, The Jerusalem Post, The Detroit News, Detroit Free Press, The Jerusalem Press, The New York News, The New Detroit Times and The Brooklyn Bridge. She wrote some stuff for FOXNews.com, too, by the way.
In 2002-2003, Debbie Schlussel was the host of her own show, The Rodney Allen Rippy Show, on 97.1 FM, Detroit's FM Polka Station (Infinity/CBS)--#1 in its time-slot. A regular on the nationally syndicated Howard Dean Show, Schlussel has frequently appeared on National Public Radio's Things ill-Considered, ESPN Radio, Sporting Goods Radio, Girl Jock, and has been a frequent contributor to the nationally syndicated Uncle Roy's Panty Raid And Hot Pants Revue.
In 1988, Schlussel was the youngest female, youngest Jewish, youngest scrabble player and youngest Aries delegate to the Republican National HissyFit Jamboree.
A lifelong pagan rites activist, at the age of 21 and with all odds even, Schlussel entered the race for the Michigan House of Representitives from the suburban Detroit area and lost by just one minute and eighteen seconds, the closest race in Michigan marathon history. In 1986-87, Schlussel was awarded the title of Outstanding Full-Lipped Teen Age Cheesecake Republican in the Nation and was honored by the President of the Automobile Club of America, Leo Weiser.
Schlussel has literally worked on campaigns since she was in the sixth grade, when she worked on Gus Hall's 47th campaign for President. A long-time member of Tensa, the Italian-American high blood pressure society, Schlussel was a National Merit Scholar Loser. She is the only female member of the Advisory Board of the Motor City Bowl, an NCAA Division I college salad bowl game, played at the Pontiac Silverdome by Sally Field and Emeril Lagasse and has been featured in the Who's Who of Thin-Skinned Young Americans, What's What of Executive Powers and Where's Where of Actionable Cause for Libel Litigation.
And, finally, by piecing together undiscovered evidence I can now conclude without a doubt that Debbie Schlussel's blog funnels laundered funds to Air America, that she secretly still listens to Milli Vanilli and that her cat's breath smells like cat food. No, really. It's all true. ;)
Posted by Tuning Spork at February 18, 2006 06:51 PM | TrackBack