Freestyle 13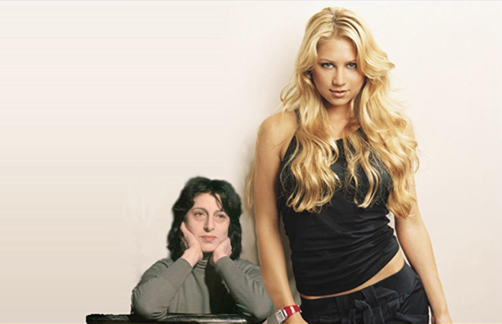 So anyway, I was over at BEQ central on Friday solving the Friday Bonus Puzzle and reading the interview with guest constructor Tim Croce. Tim wrote:

But quad stacks? That's where I draw the line. Soon as I saw the partial "O' TEA" in a quad stack I solved, that was it for me. Don't wanna even try anymore.
So, of course, I figured I'd try a quint stack, placed in the center of the grid.
After about an hour of entertaining that silly idea I decided, instead, to pick three 15-letter answers that were on my list of words and phrases that aren't in Matt Ginsberg's clue database, and to see if I can make them work. The only non-random criteria was that the first three letters had to allow a coherent Down answer.
My first three choices didn't pan out. But I replaced one of them with another and I was off and running. The result of that Friday afternoon grid-building is, for the most part, this puzzle. (I tweaked a few areas on Saturday, and clued it on Sunday.)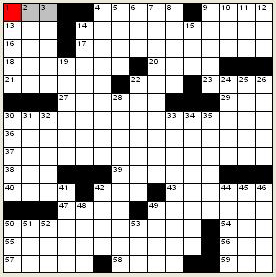 There are two entries in here that are not only fresh, but that I've never heard nor seen before. One is one word, the other is two words. But they're legit. And they're not Latin or otherwise foreign. I tried to make the clues mediumishly challenging, but even one of the 15s might be a tough nut to crack for latter-day Xers and millenials (and maybe even some geezers).
Across Lite:
Click to solve.
Posted by Tuning Spork at
07:52 AM
|
Comments (1)
|
TrackBack
Crossover Artists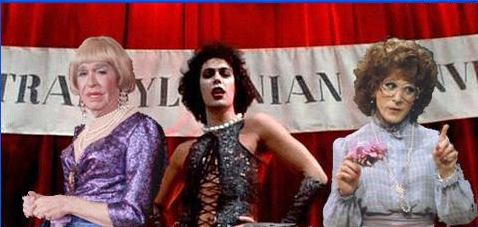 Two puzzles this week, since I missed last week.
The first one should be an easy solve. It's a theme that we've all seen a hundred times. It's okay to fall back on an old staple, now and then.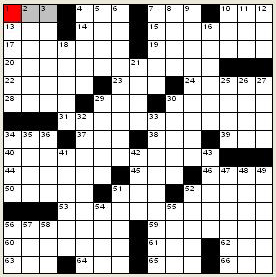 UPDATE: And I just realized that there's a slight "problem" with the third theme entry. You may see it right away. But, I think I'll just leave it as is as a reminder of what happens when one constructs and clues a crossword puzzle on very little sleep. :-)
"53 Across"
Across Lite:
Click to solve.
---------
This second one should be more of a challenge. I don't want to say too much and reveal spoilers, but this is a theme that you may have seen before.
It went through a couple of re-dos, complete with different theme entries and, of course, entirely different grids and fill. I'm still not satisfied with the way it turned out, but not so much that I want to try building another version from scratch. (Hopefully, I'm just being overly self-critical.)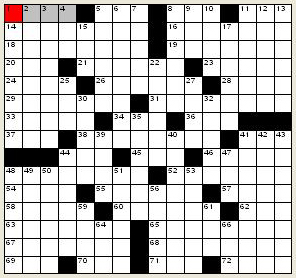 "Crossover Artists"
Across Lite:
Click to solve.

Posted by Tuning Spork at
09:46 PM
|
Comments (1)
|
TrackBack