Super Special Bonus Clearinghouse Puzzle
About 10 days ago I posted a crossword over at Amy Reynaldo's Crossword Fiend Forum on the special occasion of her half-birthday (Feb 15th). That puzzle was actually the second version that I made -- the reason being that I wanted to add a sixth theme answer.
That puzzle can be found HERE.
As with any puzzle with six long theme answers, all horizontal, the grid got a little boxy and the word and block counts went way up. This original version is more aesthetically pleasing (to my eye, anyway) so I figured I'd add it here as an added bonus puzzle between my regularly scheduled (yeah, right) posts.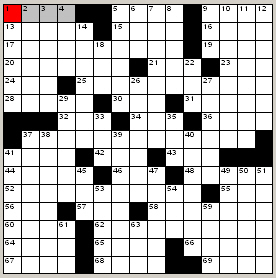 Hope you like it. And I've just completed what I think is a really nifty one that I'll post over the weekend.
Posted by Tuning Spork at
06:05 AM
|
Comments (228)
|
TrackBack