BARACK MAKES HISTORY
OBAMA BECOMES 297th WHITE GUY TO BE INCLUDED ON A MAJOR PARTY TICKET
We knew that history would be made during this 7-seasons-long election season. We just weren't sure which history it would be.
Would former Massachusetts governor Mitt Romney be the first Mormon to lead a major party's ticket? Would New Mexico governor Bill Richardson be the first Hispanic to do the same? Could former New York City mayor Rudy Guiliani become only the 2nd Catholic to become President? Fred Thompson the 2nd actor? Dennis Kucinich the first dwarf?
But as the state campaigns sallied forth, and the number of contenders on the primary slates dwindled, there was only one question of any real interest left. Could it be that Senator Hillary Rodham Clinton -- wife of the first black President of the United States -- would be the first woman to top a major party's ticket? Or, would it be that Senator John McCain would become the oldest man ever to top a major party's ticket? Okay, that's two questions.
But, in the end, it was the Illinois freshman Senator Barack Obama who made history by becoming the 297th white guy to perform the feat. Much like Joe DiMaggio's 55-game hitting streak in 1941, one can only gaze upon the spectacle scarcely grasping the enormity of it all, but knowing full well that we are indeed witnessing history in an event that we shan't witness again in our lifetime.

Senator Barack Obama gazing purposefully into the future.

"Wow," said Hiram Hubbard, a steelworker from Pittsburgh. "I can't believe I'm seeing this. When McCain was number 296 I wondered just how much further it could possibly go. This is like when the New York Yankees won back-to-back World Series' twenty-two years in a row or something. Didn't they?"
"297," Candy Ribbons, a 13-year-old exotic dancer from Salt Lake City said with head-shaking wonderment. "Who's ever gonna top that? Maybe the Asians...?"
While some observers were quick to point out that Senator Obama is, in fact, of mixed racial heritage, that didn't stop most people we spoke to from focusing on his obvious "whiteness".
"I don't see how his mixed background changes the fact that he is, to me anyway, in essence, a white guy," chimed Joey John-Boy Walflauer. "It's just nice to be able to vote for somebody who looks like me."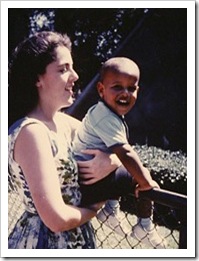 A young Barack with his mother Ann.
Harriet Christian of Manhatten had a different take. "Why do we keep calling him a 'white guy'?", she shouted to passers-by on Seventh Avenue in mid-town. "He's just as much a black guy as he is white!"
While Harriet is technically correct, her words seemed to fall on the deaf ears of revelers who seemed to be too caught up in the history-making moment to let that fact interfere with the celebration.
No. It seems that Barack Obama -- his olioic geneology notwithstanding -- is destined to be renowned as the 297th white guy to run on a major party's presidential ticket. And that, as nearly every person we spoke to will tell you, is worth repeating.
Posted by Tuning Spork at
02:36 PM
|
Comments (3686)
|
TrackBack