A Hero's Hero
My Project 2996 task was to honor Amy Lamonsoff, which I did in the post below. I'd like, however, to also honor Captain Vincent Brunton. There are two reasons why. 1) the blogger who was assigned Capt. Brunton has not posted a tribute (yet) and, 2) I want to post a song lyric.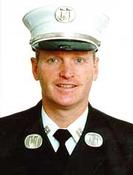 UPDATE: Timbrely has posted his/her tribute and it's a short but good one. Here's the operative paragraph:
In reading the words written about, for and to Captain Vincent Brunton through the World Wide Web, one can paint a mental picture of this man. Certain words come up again and again as people remember the 43 year old firefighter who gave his life to save others on September 11, 2001. Brave, Hero, Gentleman, Determined, Loyal, Friend. These are not words written simply because he is gone from our midst. These are the qualities people noticed about him when they met him. It is quite apparent that Vincent had a deep impact on people even before he made his ultimate sacrifice at the World Trade Center. The people who knew him, were touched by his spirit while he was amongst us, and have chosen to spread his spark in his memory. Everyone who reads about Vinny has an opportunity to grow as a human being, to pass his spirit along in words and action.
/end
UPDATE
You can learn a lot about Vinnie Brunton by googling his name, so I wont go whole hog on constructing a tribute here. I just don't want him to go un-remembered among all the tributes being posted today.
I first heard his name in June while at the annual Fairfield County Irish Festival. The band, the Highland Rovers, were playing an excellent set, as usual, when their lead guitarist and some-time bagpiper, Jeff Conlon, introduced their next song as a tribute to Brunton.
Jeff is not only a guitar player extraordinaire, but a retired New York City police officer. His brother-in-law is a New York City fireman who, on September 11th, 2001, arrived at the station house at 9:00am -- only several minutes after the on-duty crew had left for the World Trade Center. All those who went to the towers perished that morning.
As the Highland Rovers began to play the song, the people who were dancing up a storm during the previous tunes sat down on the dance floor. The pulse of the rhythm and the cry of the mandolin created a solemn atmosphere that seemed both strange and satisfying on that sunny afternoon.
I can't seem to find a way to post a direct link to the song that the Highland Rovers played that afternoon, but you can hear it here. It's track #10; "Hero's Hero". The lyric is in the extended entry.
The men huddled into the kitchen staring at the color TV
8:54 and it's time boys,
We know where we need to be
There's smoke rising out of our city,
smoke that is burning our eyes,
unbelievable visions on TV,
unanswerable question why
So many running around trying to just stay alive
25,000 could do so thanks to Ladder 105
People turn running away, confused, hurt and afraid
but the captain says "we're going in, boys,
may the Lord be with us today"
Captain Vinnie Brunton says "Gentlemen, think on your feet,
take a deep breath and stay by my side,
this morning we're going in deep"
A year has passed like a whisper,
the pain hasn't gone away
and everytime I feel afraid I can still hear my captain say
"Be a man's man and study every mistake that you've made
and learn from every situation, it may save your life one day"
Captain Vinnie Brunton says "Gentlemen, think on your feet,
take a deep breath and stay be my side,
this morning we're going in deep"
With a halogen over his shoulder and Father Judge guiding him through
he passes through the gates of heaven and says,
"we still got work to do"
To Mrs Cathy Brunton,
don't ever feel like you're alone
We will always tell your children
their father is a hero's hero
The captain is gone but will never leave
Every time that we hear the bell call
the legend that is Vinnie Brunton
will remain in the hearts of us all.

Posted by Tuning Spork at September 11, 2006 11:57 AM | TrackBack