Okay, time for a poll (of sorts)
With the Star Trek themed fund-raising going on at NRO, Jonah takes us on a trip down memory lane with a link to his review of Enterprise. After going on a bit about T'Pol as the follow-up to 7 of 9, he writes:

But before we smash our church-lady tea sets at the sight of rich unguents being smeared over that Vulcan torso, let's not forget that the original Trek (cue harp music) was never above a little T&A — or a lot of it. The Federation memo requiring all female officers to wear miniskirts (officially, they were called "skorts") was hardly a nod to their ergonomic benefits. Hell, Yeoman Rand was essentially a clipboard with blonde hair and long legs.
So, now I wanna ask my faithful readers, old and new and in-between: Who was the bestest babe EVER in Star Trek, the original series?
I'll get us started by voting for Dr. Helen Noel as portrayed by Marianna Hill in the episode Dagger of the Mind.
This is the best photo I could find and, believe it or not, it doesn't do her justice: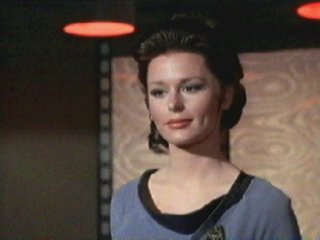 Any more nominees? They may be recurring characters or one-hit-wonders. Whatever. Who would you choose to be stranded on Ceti Alpha 5 with?
P.S. Chicks are welcome to chime in, too. Jenelle, I'm looking in yer direction... ;)
UPDATE: Thanks to Richard, a.k.a Finchster, the poll is open! VOTE!
Posted by Tuning Spork at June 13, 2006 07:07 PM | TrackBack