When Cats Attack, pt 2
About a month ago I wrote a post about Lewis, a cat who had attacked at least a half-dozen people in my neighboring town of Fairfield. Welp, there are some new developments

BRIDGEPORT — It began as a joke by a couple of college students. "Let's give Lewis the Cat a Web site," they said.

But now, the fashionable spaghetti strap and crew-neck shirts they're selling online bearing Lewis' likeness may be all that separates the infamous "Terrorist of Sunset Circle" from a death sentence.

Erin Reeves, a graduate student at Fairfield University, never dreamed she'd end up raising funds online to save Lewis' life when she first read about the cat's run-ins with the law in the Connecticut Post.

"It was just too funny," she said.

She and a friend decided to launch a profile for the Fairfield feline on Myspace.com. Within weeks Lewis had more than 500 MySpace "friends."

Meanwhile, Lewis' owner, Ruth Cisero, was in despair. Lewis, violating a court order, had escaped her home and attacked a female neighbor. Prosecutors offered Cisero an option: if she put Lewis to death, she'd get off with probation.

Cisero has vowed to prevent Lewis' euthanization, but further litigation would cost big bucks, which she said she doesn't have.

Enter Reeves.

"I went over to Ruth's house and got to meet Lewis and I found him to be the nicest, most gentle cat," she said. "I have cats of my own, and I know if someone told me I would have to euthanize one, I would be devastated."

And so, Save Lewis T-shirts were born. They're available online for about $20 at Café Press in several styles and sizes.

Mousepads are also available.

So far, 10 shirts have been sold. Reeves said proceeds of the sale of the shirts would be used for Lewis and Cisero's legal defense. Anything left over, she said, would be donated to charity.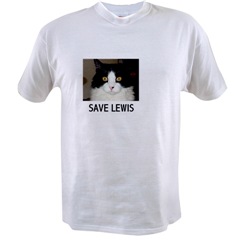 Here's Lewis' MySpace site.
Posted by Tuning Spork at May 1, 2006 03:41 PM | TrackBack