Hot Air arises!
The lovely and tireless Michelle Malkin has just unveiled a new project. It's called HotAir.com and is a conservative internet video site. With the success of YouTube.com and a host of liberal video sites, Michelle thought it was time, "in part[,] to bring more balance to the videoblogging world. But also because it's the next logical step in the information revolution."

There's much more to Hot Air than the daily newscast, though. We have affiliates from Paris to Washington, D.C., to Wisconsin offering original video, photography, audio, photoshop parodies, and investigative reporting, and we're recruiting more. We are spotlighting the best content across the Internet in our "Top Picks" section. Our group blog is run 24/7/365.

The debut video of Vent with Michelle Malkin is up, and it called Kowtowing to China.
The thing is that I'm on dial-up and have an older version of Flashplayer. (The video is in Version 8 format.) For one or both of those reasons my download was very slow and choppy. I could only watch a few seconds of video before it stopped to download enough to play a few more seconds. The gaps of silence usually lasted about 20 to 90 seconds.
When the play paused, the sound would end and the video would freeze. While, when you watch the video straight through, Michelle is always her lovely self, when the video freezes it often freezes when she's seemingly making a goofy face. But that's just the fact that, out of context, a random frozen image of an active face can look almost unnatural at times and often...well...kinda creepy. "...comes with the meat..."
But, as luck would have it, at one point Michelle was completing the word "Yahoo" just as she blinked her eyes. In the streaming video (which I could watch after the initial long slow download) the blink was so short that I wouldn't have noticed it had the video not frozen at that precise millisecond. The result, though, was that I was staring, for about 30 seconds, at Michelle Malkin's kissyface. Lips puckered. Eyes closed.
I quickly checked to see if I could do a Save Image As command, but nope. Then I hurriedly made a screen shot. But, for some reason, the screen shot didn't take.
So, after I downloaded the video and could play it back at normal pace, I played it right up to that moment and pressed "Pause". Heh. I nailed it on the first try.
And, so, for all you red-blooded, freedom lovin' fellas out there: I present Michelle "Kissyface" Malkin: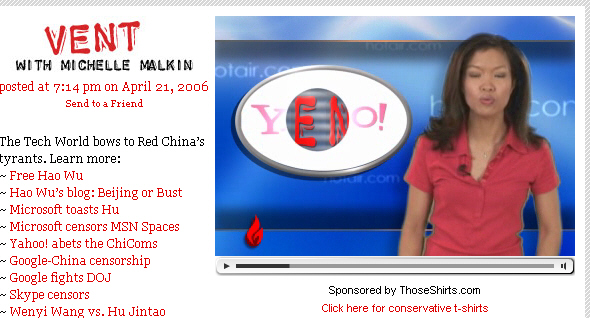 We like that.
I've got way too much time on my hands.
Posted by Tuning Spork at April 24, 2006 12:56 PM | TrackBack