Rosa Parks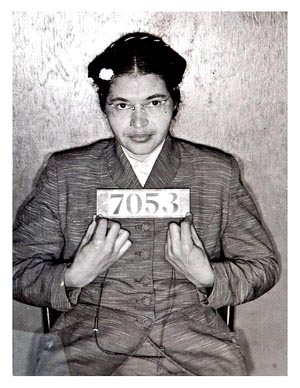 I guess it was about five or six or seven State of the Union speeches ago when President Clinton mentioned Rosa Parks and then motioned to her as she sat in the gallery for the speech. I remember being slightly surprised that this woman whom I've heard and read about all my life -- this legend of American history; the "mother of the modern civil rights movement"; the woman who stood for something by staying seated -- was still alive and live on my TV screen.
And even though she was just sitting still in that gallery, she still managed to look graceful doing it. And she was so beautiful. I thought that she must have been a very young woman -- maybe college age -- when she refused to give up her seat on that bus. But, when I heard that she died yesterday at the age of 92, I realized that she was 43 years old at the time; a year older than I am now.
It's funny to think now about how I still tend to think of segregation in the south as ancient history. I learned about it as a child, back when five years may as well have been a century. That Rosa Parks' refusal to bow to the Jim Crow laws a mere seven years before I was born -- and that the Civil Rights Act of 1964 happened a year after I was born -- makes me realize how recent it all was to all them grown-ups around me. My grandfather, f'rinstance, was seven years older than I am now when the Civil Rights Act was signed into law. To live to be an adult and a grandparent with such practices extant in my own country would make my child-of-the-'70s head spin.
Ah, well. I'm glad that I was born into an America that was coming to it's senses and, as MLK said, to finally live out it's creed that all men are created equal.
Thank you, Rosa. You did good and never even had to get up.
Posted by Tuning Spork at October 25, 2005 08:34 PM | TrackBack