And in local news...
Wasn't this in a Simpson's episode?
Sorry for the lousy photo. It's an enlargement of a very small photo -- the only one provided at the Connecticut Post's website.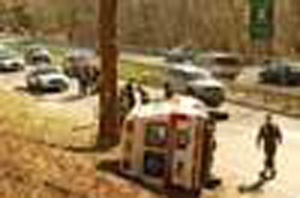 FAIRFIELD — A woman being transported from a minor Merritt Parkway accident Thursday allegedly suffered additional injuries when her American Medical Response ambulance suddenly flipped onto its side and crashed near a tree while rushing to a hospital.

She remained lashed to a stretcher inside the ambulance until freed by rescue workers.

-------------

The woman, Delea Delima, 34, of Shelton, was reported to be in stable condition late Thursday at St. Vincent's Medical Center in Bridgeport. State Police said she complained of neck pain after the ambulance crash.
You can't make this stuff up. Full story HERE.

Posted by Tuning Spork at April 22, 2005 08:12 PM