Pajamasphere™ logo
Fiddling around this evening I created this: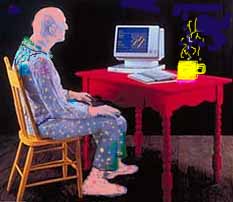 Does it look familiar? Yeah...? Yep, you guessed it. 22 years ago TIME Magazine pronounced that the future would be written in binary code. It didn't happen quite as soon as they thought it would, but it did happen in the end.
Perhaps TIME's 2004 "XXX of the Year" could use this Photoshop image...?
Now I just have to figure out how to add text to it. Feel free to play with this and make it better! :)

Posted by Tuning Spork at September 18, 2004 07:44 PM